We're Getting Mutants in the MCU - The Loop
Play Sound
Maximillian Foster



Profile
Portrait(s)

Full Name
Maximillian Foster
Age
18 (The Explorers)

25 (The Explorers: King Maximillian)

Birthday
September 1, 1986
Height
5'7" (The Explorers)

5'9" (The Explorers: King Maximillian)

Weight
60kg.
Weapon Type
sword hidden in a long staff
Martial Arts
Eskrima
Element
Holy Crusade
Class
Warrior (physical class)

Devout/Sage (magical class)

Race
Demi-Human
Maximillian Foster, also known in his nickname as Kenji, is the main protagonist of Kirsten Nimwey's first and featured novel series, The Explorers. He is being chosen by the great king and god, Jethro to become the Element Wielder of the great king's ultimate power, the Holy Crusade.
Appearance and Personality
[
]
"Why do you have to judge me like that? You do not even know my capability nor what I can do. I do not need anything in return! I want that stone and I will do everything to become one of you and fulfill my dreams!"
- Kenji to Elijah
Kenji is a "demi-human", a fourth son of a fairy and a human, who is the former leader of the Explorers. Kenji is a younger brother of Reinhardt and Zoroaster, and also Genji's twin brother. He is Claude's best friend and only companion.
Kenji has a trait of being a sensitive and a confident person. He also has Amnesia, a temporary loss of memory that he usually suffers everytime he regains his consciousness or wakes up. In the novel, after he is saved by Claude at the sea, he lost his memory twice when he wakes up in the clinic.
2009 Design
[
]
Kenji was first designed by Kirsten Nimwey in 2009, wearing black turtleneck shirt made of fine cotton, red headband with vertical stripes, a pair of black boots, a black cloth around his waist, and black flared-leg pants. His body is covered with some accessories like a scabbard in his back hanging from the belt on his waist, a pair of black gloves, armbands, earrings, and a belt with a pouch made of leather. His first hair color was pure blond, but later on changed into dark brown. He has fire tattoos in both arms. His first weapon was a sword, but later on changed into 5'4" feet long staff with a sword hidden inside. His body size is slim, but he is fast and wise.
2012 Design
[
]
In 2012, Kirsten revised her model design of Kenji and she made lots of modifications from his 2009 design. Some are changed, added, and are removed. But some did not change at all. Unlike his 2009 design, other accessories are removed such as his scabbard, which is now replaced by the staff holder because his old weapon is also replaced by the long staff. The weapon holder is still in his back, which is still hanging in the belt on his waist. The leather pouch design hanging on the left side of his belt even changed as well, as Kirsten removed few detail designs of it. The belt buckle changed as well into a big rounded square-shaped buckle compared to his 2009 design, which was an oblong-shaped. His long belt design around his waist is now simplified, the same as the belt around his torso.
Only few were added to this design such as the short black jacket with an Explorer emblem on its back, and more. The rest of his outfit designs are retained, but are also simplified. Kenji still wears a turtleneck shirt, but this time his shirt is made of pure white silk. His pants design did not change as well as his pair of boots, a pair of gloves, armbands, headband, his fire tattoos in both arms, and his earrings. Kirsten retained his black cloth around his waist, but is also simplified and removed distracting details to it.
Etymology
[
]
Kenji's real name, Maximillian came from the Roman name Maximilianus, which was derived from MAXIMUS. It was borne by a 3rd-century saint and martyr. In the 15th century the Holy Roman Emperor Frederick III gave this name to his son and eventual heir. In this case it was a blend of the names of the Roman generals Fabius Maximus and Cornelius Scipio Aemilianus, who Frederick admired. It was subsequently borne by a second Holy Roman Emperor, two kings of Bavaria, and a short-lived Habsburg emperor of Mexico.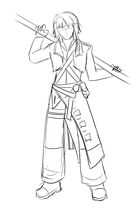 Trivia
[
]
Kenji's first birthday was September 4, 1986, but later on changed to September 1, 1986.
Kenji's first hair color was blond, but Kirsten decided to change it into dark brown.
His Holy Fire tattoos in both arms are inspired by Chester Bennington of Linkin Park's flame arm tattoos.
At first, Kenji's full name was Kenji Ohgami (inspired by Bakuryu's name from Bloody Roar 2 given by Yugo Ogami), but it changed to Maximillian Foster.
Kenji's main signatures are his red headband and the two studs in his chin.
His first hair design under his medium-length layered hair at the back was so long that it goes all the way down to his ankles (see Kirsten Nimwey's old pencil drawings of him at http://www.kirstennimwey.com/facts-and-trivia.html). Now the long hair is cut, having the longest length of one inch above his shoulders.
In The Explorers: King Maximillian, Reinhardt mentions that their parents should actually name Kenji as "Gromete", until the Pioneers seals King Maximillian in his body. However, Kenji responds that he doesn't like the name Gromete because it sounds ugly.