The Explorers Book 2 is now available on Amazon!
Hello to all the readers of The Explorers novel! The Explorers Book 2 (English Edition) is now available on Amazon in its Kindle Edition. You can get the second book's Kindle Edition now: http://www.amazon.com/Explorers-Book-2-Kirsten-Nimwey-ebook/dp/B00KIEEL8K/ref=la_B00GQVLDNA_1_2_title_1_kin?s=books&ie=UTF8&qid=1400942790&sr=1-2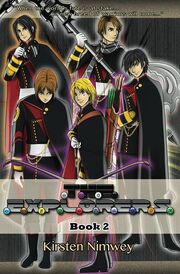 The novel's Paperback format will also be available soon on Amazon and other stores worldwide, but it is now on sale on Createspace. Get it here: https://www.createspace.com/4732488
The Explorers has just created its own Wikia.com article today! The author is currently looking for contributors/editors who are interested in adding, editing, and formatting page contents everything related to The Explorers series!
The Explorers Wiki is a collaborative encyclopedia for everything related to The Explorers series that anyone can edit! The contributors should be familiar about the series and have read the novel. Anyone can add, edit, and format freely without signing up on Wikia.com!
So start adding your The Explorers content by going to this link: http://theexplorers.wikia.com/
Grab your copy now! Don't forget to help support The Explorers by liking and sharing the page to your wall and let your friends know about the release.
Thank you for your support and God bless!
- Kirsten Nimwey